I'm pleased and honored that you've come to my website. Take some time to look around and see what I've been up to.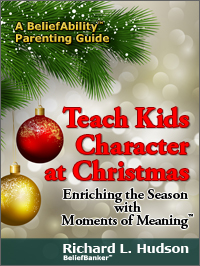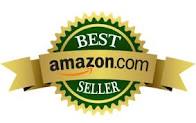 "Teach Kids Character at Christmas"
It's Christmas and the house is filled with food, friends, and family. Gifts are ready, the kids are giddy, and hidden in those holiday hours are Moments of Meaning™.
You know that the Christmas season can be a magical time for children and parents alike. So why is Christmas also one of the best times of the year to teach character to your kids? What do Moments of Meaning™ have to do with building powerful beliefs in your child?
In talking to parents, I found that most know what beliefs and values they'd like to pass on to their kids. They just didn't know how because they'd never been taught what to say or do. In Teach Kids Character at Christmas, the first of the BeliefAbility™ Parenting Guides, I provide a simple plan for parents to use to pass on great beliefs.
Teach Kids Character at Christmas launched in December 2014 and became an Amazon best seller. Click here to check it out!
BeliefAbility™ Parenting Podcast
I developed this podcast series to help parents pass powerful beliefs on to their children. The BeliefAbility™ Parenting Podcast is not like the typical parenting fare.
BeliefAbility™ is all about understanding beliefs, how they work, and their effects on our lives. For parents especially this is important and that's why I started this podcast. These are short programs designed for busy parents.
A feature of each podcast is a "Belief of the Week" – a peek at the improbable, uncommon, and amazing beliefs held by people and how they apply to each of us.
Listen to the podcasts on iTunes or at ParentingBeliefs.com.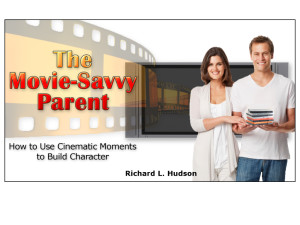 The Movie-Savvy Parent
How to use Cinematic Moments to Build Character
The Movie-Savvy Parent gives parents a way to use movies to open great conversations about life issues in a controlled environment. It provides simple steps to identify and discuss beliefs about morality, values, and character.
The video training, which can be completed in less time than it takes to watch a feature film, gives parents all the tools they need to turn the tables and use the movies to teach.
Find out more at MovieSavvyParent.com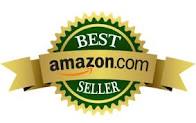 "So, What Do You Do?"
I was chosen to be a co-author of "So, What Do You Do?" published by Morgan James Publishing. The book became an Amazon best seller.
"Each person has their own passion, talent, skill, ability and personality that makes them as unique as a snowflake. When we do what we were created to do, we bring a unique value to the world," says New York Times best-selling author Joel Comm who brought together 46 "geniuses" passionate about their areas of expertise.
"When meeting someone for the first time, names and handshakes are exchanged. Invariably, one person asks, 'So, What Do You Do?' " said Comm. "The question itself is an invitation to discover the genius that is available all around us if we will just listen."
My chapter in the book is "What's in Your Portfolio?" It tells of how a single, almost insignificant belief led to me battling years of depression. Changing that belief in my portfolio gave me almost instantaneous relief and brought about a lifelong investigation of beliefs and the language that builds them.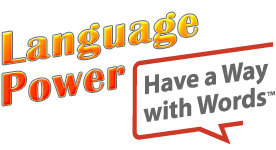 How to Have a Way with Words™
This website explores how people communicate, the power of language, and how anyone can learn to have a way with words. Visit:
Have a Way with Words™.